Since my last post I have gone to town a bit but up until now haven't documented any of it. I have painted another unit of levy infantry from the town of
Jędrzejów -see also the archers below- and four units of light infantry, three archers and a crossbow, all of which are briefly documented below.
As the units are all basically the same I have only taken photos of the different standards for each of them and left off the other bases. All the standards are conjectural by the way.
On the left is the only unit of crossbows in the army while on the right is the standard for a unit of archers. Both are from
the town of
Jędrzejów on the border between the
states of Lesser Poland and Kraków and puts it 21 miles (33km) to the west of Chmielnik so if it fought anywhere it was more likely to be at Chmielnik.
The second photo is of the other two units of archers. The unit on the left is from the Lubomirski estates from south-eastern Poland while the right hand unit is from the estates of the Jastrzębiec clan.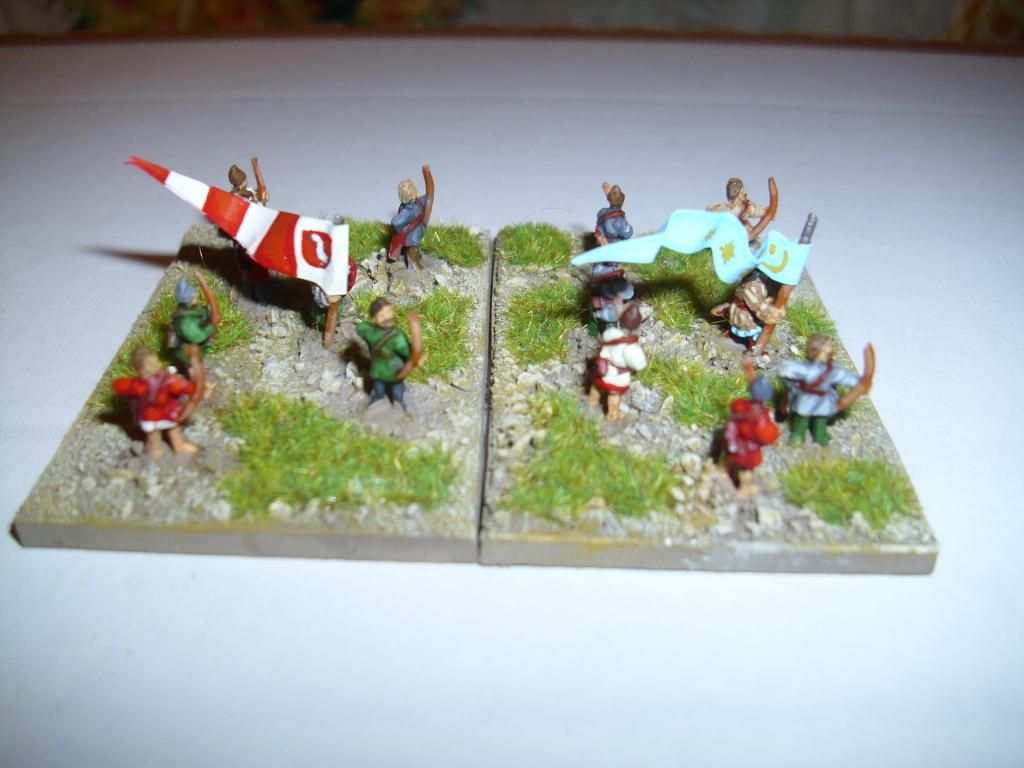 From the beginning of January I started to keep a record on my painting progress, so another Ecxel table was produced. In that month I painted 64 cavalry and 17 infantry; in February I got better and painted 33 cavalry and 76 infantry.
Now it's mid March and the painting has slowed down a little –only 6 cavalry and 59 infantry to date- but that's because in my hour a day I am making a few bits of terrain. I have started with a model based on the church at Legnicke Pole which apparently pre-dates the Invasion. More on that in the next post.